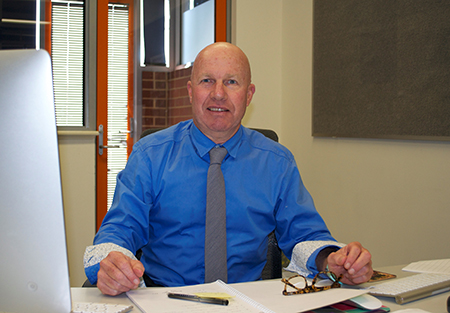 I arrive at Clarkson Community High School as an experienced Secondary School educator and administrator, having most recently worked as a Head of Learning and Community at Shenton College for the past 14 Years. Prior to this I was Head of Health and Physical Education at Girrahween SHS, Balcatta SHS and Como SHS. I hold a Bachelor of Physical Education and Diploma in Education and have been employed by the WA Department of Education since 1983.
My aim is to provide educational leadership in the school and the community by helping develop and promote the school values, ethos and priorities, and by encouraging school staff, volunteers from the community and others to share ownership of the school's vision and goals.

I am married with three children: two girls and a boy, all of whom have been educated in the Government School system. My partner is also a teacher in the Public-school system and we are passionate supporters of the education that can be offered by Government schools.

I am excited about my appointment to Clarkson Community High School and hope to have positive impact on all students who attend the school.


To find out how the education sector is affected by the new State Budget, please click this link.
Students must attend school on a regular basis to gain the maximum benefit from schooling and optimise their life opportunities. Research shows that learning is significantly affected if attendance drops below 90% as students are missing out on the opportunity to acquire and practice skills and knowledge.

Regular attendance and school uniform compliance is also an important requirement for Good Standing at our school. Loss of Good Standing may exclude students from being invited to participate in any reward or extra-curricula activities, representative sport or social events. School uniforms contribute to school culture and tone and promote a feeling of pride as one of the group.

Parent assistance with student attendance and uniforms is crucial, together we can optimise student outcomes.