By Principal John Young
Invitational Education is based on five propositions: Intentionality, Care, Optimism, Respect and Trust (I-CORT).
The Young Technologists Scholarships at ECU will be awarded to current year 12 school leavers with a passion to bring about change through cutting-edge technology and innovation. Awarded on merit, the Young Technologists scholarships aim to strengthen Australia's pool of technology talent by encouraging greater diversity and broader participation in technology-related studies.
Scholarship winners will receive $5000/year for the duration of their course.
Clarkson Community High School students were featured in The West Australian newspaper Thursday 22 September 2016. Article courtesy of Tayissa Sweetlove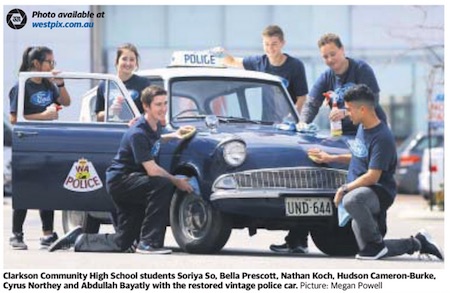 It is rare for police to want to see teenagers let loose inside a police car but this week saw a notable exception.
A WA Police Academy resilience program invited six automotive enthusiasts from Clarkson Community High School to help with the finishing touches of the restoration of a vintage police sedan.
The 1964 Ford Anglia, formerly on display in the WA Police Historical Society museum looked as good as new when the students were finished.