School Charges
Students of Clarkson Community High School pay the Government recommended annual charge, which enables the school to provide text books, technological resources and other consumables. We offer elective subjects for senior school students, which in some cases may incur additional charges.
Reporting to Parents

As our students learning is a shared responsibility between teachers, students and parents it is important that regular communication is maintained. Sutdents are assessed throughout the year and teachers make frequent contact with parents regarding students' progress at school.

Scholarships
The school in collaboration with the P&C Association offers a number of scholarships for use by students in the local area. These scholarships are advertised in the local paper, the Clarkson CHS bulletin and in the newsletters of the local primary schools. Scholarships can be used towards school charges, school dress or books. Each scholarship will operate for one year and will then be advertised again. Students may be awarded a second or subsequent scholarship.

Canteen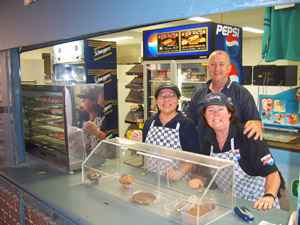 Clarkson Community High School has a privately run canteen which offers a reasonably priced, varied menu providing a well balanced and nutricious range of food choices for the school community.

Our canteen frequently provides gourmet foods for special occasions and also caters for a number of the local primary schools.

 

 

 

 

 

 

 

 

School Buses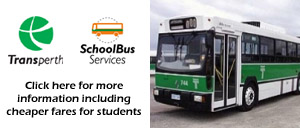 Transperth operates several bus routes via the school. The suburbs of Clarkson, Mindarie, Quinns Rocks, Merriwa and Butler are serviced by routes 481, 482, 483 and 484.
In addition a service to Yanchep and Two Rocks is available through another operator.
The School also operates its own bus, which is regularly used to transport students to a range of educational, sporting and leisure activities. On occasion, as dictated by availability, community groups may also hire the bus.