CCHS is proud to open our brand new purpose-built Esports/STEM room complete with student-built PCs for gaming and 3D printers to encourage and promote design and manufacturing in STEM (Science, Technology, Engineering & Maths).
Esports is a great way for students to learn online etiquette, a team-oriented mindset, sportsmanship and leadership skills, providing opportunities for students of all year groups get to work together and build lasting friendships .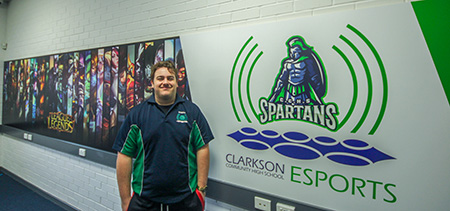 Clarkson has always been at the forefront of new technologies. This year we're building a new dedicated Esports/STEM room with help from our students.

Clarkson Community High School has created a one-stop-shop webpage for everything that parents and students need to know to access online learning in Term 2.
It contains regular information updates, parent registration forms, useful setup guides and video tutorials.
Please visit online.clarksonchs.wa.edu.au for more information.