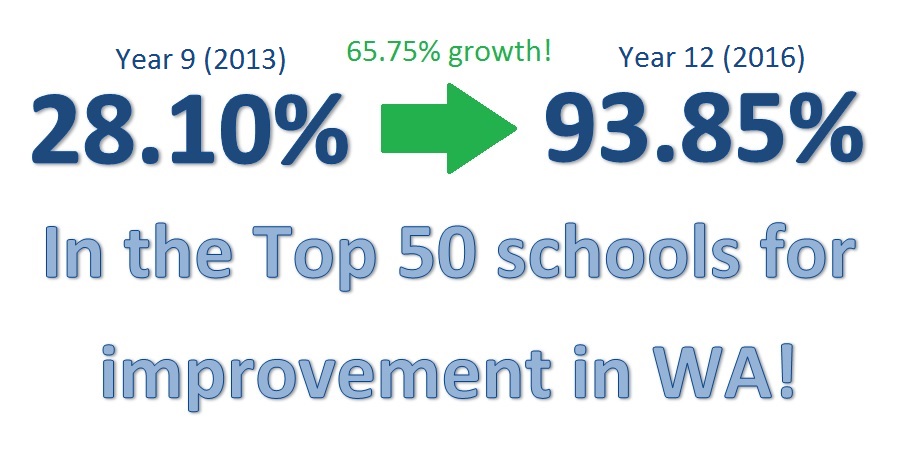 A crucial aspect of any student across WA graduating and obtaining a Western Australian Certificate of Education (WACE) is their achievement in the Online Literacy and Numeracy Assessment (OLNA).
The OLNA is a series of standardised tests consisting of three categories – Reading, Writing and Numeracy. One requirement in order to achieve your WACE is the demonstration of competency in the three areas tested in OLNA – this is the government mandated requirement to show that a graduating student has sufficient skills in literacy and numeracy by the time they leave school.
To achieve a 'pass' in OLNA, there are two ways this can be done:
•    Complete OLNA in Year 10, 11 or 12 and achieve a '3' in each assessment (results are scaled from 1-3, where a 3 represents the required competency level).
•    Achieve a Band 8 in NAPLAN during Year 9 in the corresponding assessment.
In 2013, Clarkson CHS had 28.10% of Year 9 students demonstrate proficiency in all three areas required due to achieving NAPLAN Band 8. By the end of 2016, the same cohort had 93.85% of students achieving the required standard. This is an impressive 65.75% of growth in cohort literacy & numeracy proficiency!
We were delighted this week to receive a letter from the Chair and CEO of the School Curriculum and Standards Authority (SCSA), Mr Patrick Garnett and Mr Allan Blagaich respectively, congratulating Clarkson CHS on being placed in the top 50 schools for improvement across WA. This means that Clarkson CHS is a state-wide leader in accelerating improvement for students.
This achievement is a testament to the positive strategies we are putting in place, such as strategies based on William Purkey's Invitational Learning Theory and John Hattie's Visible Learning. Congratulations go out to the staff, parents and leadership that put in the time to make these achievements possible.
Details

Category: English
Hits: 585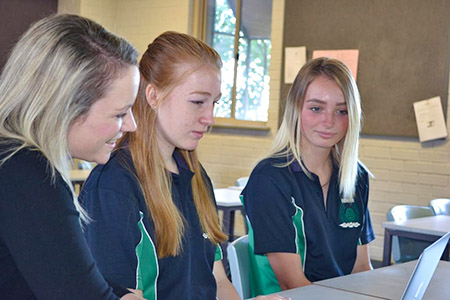 In English, students have the opportunity to immerse themselves in literature and develop a passion for language, literacy and learning through Reading, Listening and Speaking, Writing and Viewing. The English syllabus is based on the assumption that English is concerned with language and meaning, and in particular with students' abilities to make meaning with language. Students are given opportunities for composing texts (as writers, speakers and performers) and for comprehending texts (as readers, listeners and viewers).

The term 'text' refers to any form of written, spoken or visual communication involving language. The texts through which students learn about language in English are wide- ranging and varied, from brief conversations to complex forms of writing. The study of specific texts is the means by which students achieve the desired outcomes of English. Students learn to create texts of their own and to engage with texts produced by other people. Texts used are both traditional "classic" texts, and contemporary. Texts used in the English course reflect the multicultural dimensions of Australian society. In English, students use texts that compliment rich concepts and are relevant to adolescent students through integrated learning tasks.

Students are taught the principle characteristics of texts to construct meaning. They are taught how to justify and explain their understandings through extended writing tasks. They are also taught how to present their understandings through speaking. Students are taught how to refer to texts to justify their interpretation. They also learn to understand others' interpretations.

Students demonstrate an understanding of a range of texts and genres. They learn to use skills and strategies for reading and comprehending texts and develop speaking and listening skills through discussion. They also learn how texts are constructed and written in various ways and how to write in a range of formats and styles. Students understand how viewing texts (feature film, advertising, media and graphics) use conventions to present messages, issues, attitudes and values. Writing frameworks are scaffolded and modelled to ensure students have the ability to write in a variety of forms. Students are taught prediction skills and before and after reading strategies to assist with their understanding of texts. Students learn grammar and spelling conventions within the context of the course.

In preparation for upper school English, an importance is placed on extended writing. By the conclusion of Year 10, students will have gained skills in speaking confidently and group discussion. They will learn to develop informed opinions about issues in society and express their own understandings. Students are also given the opportunity to develop collaborative work habits through facilitated group work and listening skills. Students gain critical literacy skills through the school's English Program by using technology and integrating their learning with other learning areas.
Please click here to view English course outlines for Years 7-10

Sarah Glanvill
Head of Learning Area- English, Humanities and Social Sciences


CCHS always welcomes parent interaction with the school. Therefore, you'll find the contact details of our 2017 Year Coordinators posted on our website, along with the Heads of Learning Areas, Deputy Principals and school admin staff.
Look under the Faculties, Year Coordinators and Contact Us menus for more information. We'd love to hear from you!