The Government has just released the State Budget 2014-15 including the budget for the Department of Education.  Details are on the Government's website.
Please click on the image above to view the State Budget infographic on education spending
Firstly, a big thank you to those students who have maintained excellent attendance in Terms 1 and 2.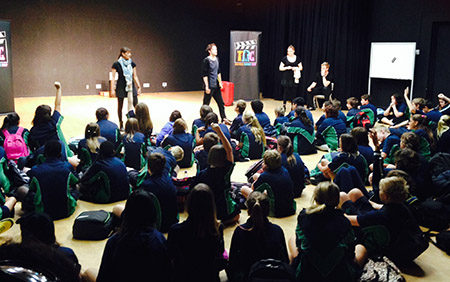 The majority of Year 8 students are settling in to high school life very well. I would like to thank those parents who have ensured that their children come to school in correct uniform every day. Most students have been wearing full school uniform as the cold weather sets in, and this is excellent to see. There are still those few students who wear non-school uniform jumpers and pants, which consequently affects Good Standing.
Man Up!
Starting this term and running through to the end of the year we are running a program called Man Up! (A Right of Passage). This program is specifically tailored for Year 9 boys only and is about encouraging and challenging our boys to develop to their full potential as young men. It involves physical, mental and emotional challenges designed to teach perseverance, goal setting, teamwork and personal ethics.
Last Wednesday we officially launched the program with a Departure Ceremony that symbolised the beginning of their journey into manhood.  The boys were pushed and challenged as they made their way from Claytons Beach to Burns Beach but each of them was keen to sign the declaration at the end committing themselves to complete the journey. Watch this space!