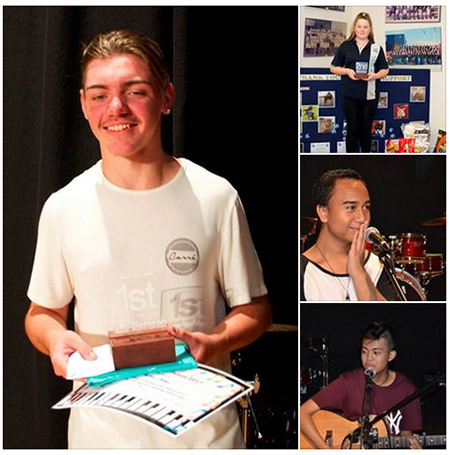 On Thursday 1st June the roof was lifting at Clarkson Community High School. The audience was astounded with the vast array of talent exhibited on the stage and behind the scenes. The purpose of the event was to bring staff and students together to show off talent and to raise money and awareness for SAFE – Safe Animals From Euthanasia in Perth's Northern suburbs.  The Clarkson High School Student Council arranged this.  The entry fee was a donation of pet food or a gold coin. The pet boxes were overflowing with goodies and over $180 was raised in support of the event.  The organization was happy to support the event and publicized the evening by placing it on their website.  A huge thank you to everyone for your donations and even gave more.
There were singers, gymnasts and dancers who shone with over 15 different acts in an action packed show.  The standard was extremely high, one Year 8 student writing and performing her own song while others gave breathtaking performances of chart hits. We had a guest appearance from the staff band, along with Scott Curries' talented daughters and a dance off! Resident MC Mrs Hill provided entertainment to keep the audience engaged with her funny quips and commentary. The three judges added supportive, humorous comments and deliberated over the awards for 1st, 2nd and 3rd place at the end of the night.
The students spent weeks refining performances and it was encouraging to see the teamwork, enthusiasm and determination of all involved in perfecting performances and supporting each other. Mr Thornicroft, played a big role in this working extremely hard in supporting the students in bringing their performances to the stage. He also had the help of his Cert three students who took on stagehands and technical roles to ensure the night ran smoothly. Whilst giving them an invaluable insight into running a show.  They did an outstanding job.
The night was a great success and a brilliant celebration of the talents of both staff and students at the school. It also shows the strong sense of the community coming together supporting our school, which will be explored further in other events to come.
The breadth of talent at our school is an occasion to watch out for in the future.
Watch this space for exciting future events in the coming semester.
Photos: Lachlan Chilton Y10 (1st place winner), Chloe Egan Y9 (2nd place winner) Christopher Adrias and Kaiza Metuariki (3rd place winners)