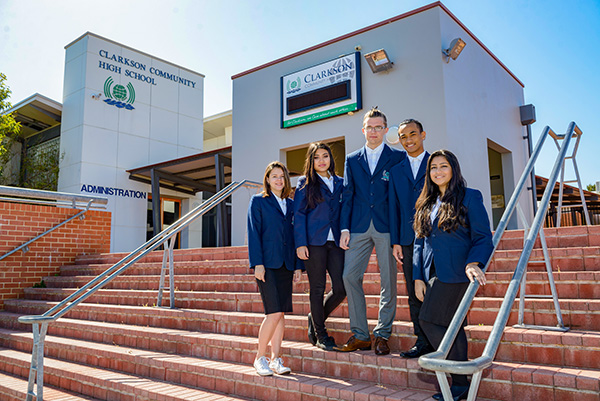 Clarkson Community High School is the leading Invitational Education School in Western Australia.  
Invitational Education is a process that recognises the importance of inviting students to be active and engaged participants in learning and our school programs have a focus on encouraging students to be actively involved learners in all school activities.  A key component of our Invitational Education program is to encourage students to value education opportunities and pursue life-long learning.
A comprehensive pastoral care program underpins all aspects of our school and supports our focus on student well-being and active engagement in learning.  Our pastoral care program has a philosophy of CARE (Cooperation And Respect for Everyone) and we encourage all students to be supportive of the education of other students.  Our school has a zero tolerance approach to bullying and we provide pastoral support and counselling in the school to assist every student to achieve personal and academic goals.
Clarkson Community High School is one of the most modern learning campuses in Western Australia.  Our school facilities include the latest ICT and STEM equipment, and our grounds and buildings are pleasant and inviting for students.  Canteen facilities for students are provided by a commercial operator and students have access to modern and well-equipped classrooms throughout the school.
Our extension programs for students include music and STEM, and the school provides a wide range of vocational training programs, including programs relevant to building and automotive careers.  We have an industry-standard commercial kitchen facility for vocational students and we are developing additional trades' facilities to serve the developing needs of our students.
I encourage you to browse our school website to see the full range of opportunities available to your child at Clarkson Community High School.  Our school strives to create a learning environment that keeps pace with our modern community and provides students with a supportive and inviting learning environment.  If you require any additional information regarding programs for Year 7 students please visit our enrolments page and/or contact Deputy Principals on 08 6206 5000.
We look forward to welcoming your child into our school.

John S. Young - Principal