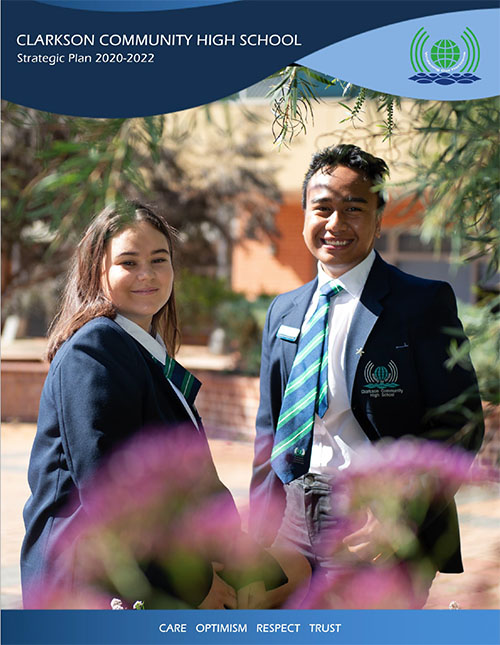 Clarkson Community High School is proud to release our 2020-22 Strategic Plan developed in partnership with teachers, students and the local community.
Please click on the image above. You will need Adobe Acrobat Reader to view.

---
Dear Parents/Carers,

I want to thank you again for your support throughout what has been a very unusual school semester. The COVID-19 pandemic is affecting our entire community and has presented us with extraordinary challenges in managing schooling during the first half of 2020. I am pleased that together, we have been able to make the best of this situation and ensure your child's safety and continuity of learning.
The book by Hattie and Zierer, 10 Mindframes for Visible Learning (2018) is a focus for school improvement at Clarkson in 2020 linking invitational theory to the thinking that is necessary to make the learning visible. Visible Learning is about the thinking teachers do to make the learning more effective in the classroom.
In this video, graduate teacher Monica Chamizo discusses Mindframe 6 and explains how she uses feedback in the classroom. Special thanks to Year 8 students Chloe Boyle, Eve Tickner, Jaxon Walford and Sarah Price for their valued contributions to this video.
Please click here to view our original Mindframes video featuring Arts teacher Ellie Hoyer.