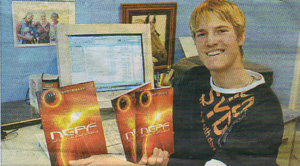 Writing a novel is a big achievement for anyone, let a long a 15-year-old boy. But (Clarkson Community High School student) Luke Vandermark has already written a science fiction novel, Northern Galaxy Police Force: the legend of James Hawkman, and plans to write more.
Vandermark said that he began writing seriously when he was 11 after a teacher gave him a journal to jot down his thoughts.  
"I love to put down what I am thinking in my imagination," he said.  
The teacher said he was inspired by author Matthew Riley, who writes in the style similar to watching a movie.  
"I love to write and its also a way for me to get into making movies, directing or acting," he said. "Its science fiction… I'm not so much a science fiction buff, but I like aliens and war so putting them together was interesting for me."  
However Vandermark said he would like to experience other genres once he has finished writing the trilogy that he has started.  
"I am hoping to write stories of another genre, like comedy," he said.  "I'm also interested in writing inspirational stories with believable characters."  
The author said he is inspired to write by the thought of sharing his knowledge with other people. 
"Writing is a powerful way to touch, teach and inspire," he said. "I also like telling people about my values and beliefs to help people through life… and also to entertain, of course."  
However, Vandermark said he would not want a full time career as a writer but would always do it as a hobby.  
"I couldn't see myself doing that (writing) and nothing else… but I would always love to write," he said.  
The author said he would like to become a priest or teacher and is already teaching religion at St Andrews in Clarkson. 
To buy a copy of NGPF: The Legend of James Hawkman for $24.95, email Luke at This email address is being protected from spambots. You need JavaScript enabled to view it.  
Article by Carmen Allan. Photo: Teenage novellist Luke Vandermark with his recently-published book.