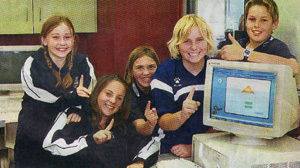 Clarkson Community High School Year 8 and 9 students are excelling at mathematics thanks to an online program designed to motivate students and improve their results.
The global program has inspired students at this school so much that one Year 8 class achieved a ninth ranking among all users in the world last month.
Teacher Ann Paterson said the program helped students to have fun while learning mathematics.
"Recently one of our classes came 36th in the world and 25th in Australia," she said.
"One of our students was also ranked 93rd in the world one day and 39th in Australia.
"This program is popular in Private and State schools around world. It is highly motivational and the students enjoy doing maths because it is computer based and they can (compete against) each other or students across the world online."
Photo: Students Samantha Rogers, Dannielle Sceats, Karolina Benkova, Caitlin Piesse and Jayden Ganzalez