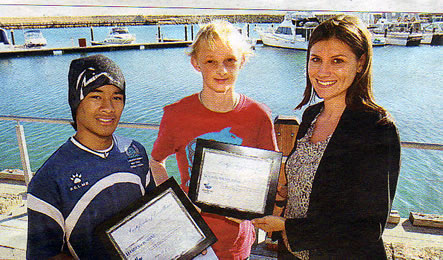 Clarkson Community High School students have won major awards in the sea-themed poster competition for the 2008 Mindarie Festival.
Other local schools in the competition included Peter Moyes Anglican Community and Clarkson Primary schools.
Clarkson CHS Year 10 student Mason Willoughby won the overall design category for the most striking design with his poster that incorporated 3D objects, including shells and different textures to enhance the look of marina life and sea dragons.
Classmate Hamizan Jumani was voted winner of the poster design competition and his work will be used on all festival advertising.
"There was a flood of entrants into the competition and the level of design from students this year was outstanding, making judging the competition a difficult task," event mananger Claire Sharman said.
"Jumani's work was selected because of it's vibrancy, intricate design and clever use of the blended colours to create an underwater scene that was ideal to represent the festival this year."
All work will be on display at the Marina Hotel foyer on October 19.
Photo by Bruce Hunt - Event manager Claire Sharman with competition winners Hamizan Jumani (left) and Mayson Willoughby (both 15)