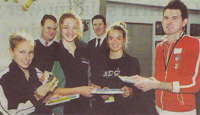 Clarkson Community High School was selected for a pilot program aimed at improving attendance.
The "It All Starts At School" attendance program was introduced at ten WA schools, including Clarkson.
Members of Student Edge, the organisation that initiated the program, visited the school last Tuesday to talk to students about the importance of going to school and the reward program.
Student services coordinator Damian Croxford said students would be rewarded with vouchers, prizes and school holiday experiences through Student Edge, which will visit three more times this year, bringing guest speakers.
"The program has been designed to reward students with significantly improved and continued high attendance," he said.
"This builds on our existing school-wide programs to assist in improving attendance rates, recognising students and reinforcing positive behaviour."
Youth mentor David Gunter last week spoke to students about choices, consequences and goal-setting, drawn from his experiences.
Clarkson will be competing against nine other schools to win an end-of-year concert for students at the school.
Photo: Students Bethany Wilson and Paige Atkinson with Claudia Di Nol and Matt Gugiatti, from Student Edge, and (at back) student services coordinator Damian Croxford and middle school coordinator Geraint Davies.