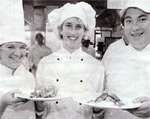 Clarkson Community High School fired up My High School Restaurant Rules with a Caribbean theme.
Vocational Education & Training hospitality students tapped into the theme by choosing dishes with distinctive sweet and sour flavours.
These included a colourful chicken dish, and a stack comprising a vegetable pattie, sliced aubergine, mushroom and diced vegetables on a bed of pineapple rice.
The competition is held annually at Edith Cowan University's Degrees Brewery commercial training restaurant in Joondalup.
It gives students at local high schools studying hospitality an opportunity to learn more about the industry as they take control of the restaurant for the day.
Students must order food, prepare menus, choose a theme, decorate the restaurant, cook and serve food and ensure patrons enjoy their dining experience.
Clarkson student Bianca King felt the challenge went well, particularly as it was a new experience for everyone.
"The theme was chosen because we live near the ocean and franjipanis were predominant because everyone loves them," she said. About 140 students from six schools are taking part in the competition, with the winner announced in September.
The competition is run as a business game and students are assessed on theri business planning and execution skills.
Picture: From left, Kristen Tosley, Cameron Wetton (who was head chef for the day) and Caleb Gourley from Clarkson Community High School present their dishes