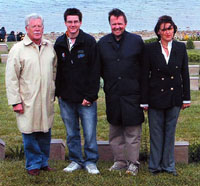 By Daryl Eagle, Head Boy, 2007
On April 22 I was one of 14 very fortunate students to take part in the 2006 ANZAC Student Tour to represent Western Australia at overseas commemorations of ANZAC day.
This included a trip to France, Belgium and Gallipoli in Turkey.
The trip allowed me to visit some great tourist attractions such as the Eiffel Tower, the Louvre and the Arc de Triumph.
April 25 saw us in Belgium attending a huge ANZAC service.
At Menin Gate in Ypres, thousands of people gathered to join in remembering those who had fallen to save European countries.
It was amazing to see so many people who shared the same ANZAC spirit that we in Western Australia have.
Four buglars sounded the last post at the ANZAC day service.
I was overwhelmed by the sense of gratitude displayed by the Belgians who would walk up to me and shake my hand and say thank you.
Highlights of my tour included visiting the castle of Jonebeke in Ypres, Belgium, where a re-creation of Australian tunnels can be visited.
This gave me a true sense of how it must have felt to be part of such a terrible war.
The saddest thing about visiting the many Australian memorials was reading the epitaphs of families on the gravestones.
I made it a point never to place a poppy on a named grave, but only on those not known.
Families of this soldier still do not know where their son, brother or father fell in WW1 and I felt it important to acknowledge all those who fought.
I would not have been able to attend this tour if it weren't for the overwhelming assistance shown to me by the staff of Clarkson CHS, in particular Ms Tessa Curtis and Ms Madonna Valentine.
Thanks to this once in a lifetime opportunity, I now have a greater appreciation of those who gave their lives to allow us to experience the lifestyle and freedom we have today.
Picture: Daryl Eagle at ANZAC Cove with (from left) Norman Moore MLC, Department of Education and Training Director General Paul Albert and Training Minister Ljiljanna Ravlich 
---
Our thanks
The Humanities Department would like to thank the following individuals and organisations who sponsored Daryl Eagle's participation in the Premier's Student Anzac Tour to Europe this year:
Clarkson CHS' Parents and Citizens Group
The staff at Clarkson CHS
Mindarie MLA John Quigley
Wanneroo MLA Diane Guise
Joondalup MLC Ken Travers
Councillor Rudi Steffens (City of Wanneroo)
Overall a total of $1140 was raised to help Daryl with incidental expenses incurred on his trip.