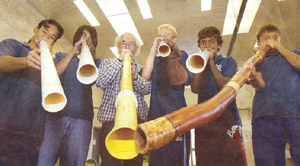 Clarkson musical instrument maker Phil Mendel has been keen on the didgeridoo for more than 30 years.
Mr Mendel recently out six students from Clarkson Community High School through the first of six lessons they are being offered in how to play the ancient musical instrument.
He took along, for their first one-hour lesson, a PVC plastic didgeridoo he made at Scitech in West Perth, where he also made a thongophone - an organ-like instrument that gives off a drumming sound and can accompany the didgeridoo.
Mr Mendel is a design and technology student at Edith Cowan University, Mt Lawley. He will soon start work at Clarkson CHS as a design and technology teacher.
"I became interested in the didgeridoo when i was working in Melbourne in the 1970s as a trombone player," he said. "Professor Stewart Dempster, visiting Australia from Washinton State University in the USA, was keen on learning about our didgeridoo. That meeting was the spark."
Picture by Lindsay Muskett: All in harmony...Hamizan Jumani, Jonathan Bell, Phil Mendel, Sean Wood, Dominique Namok and Bradley Hill