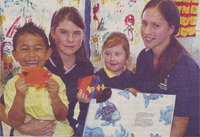 Clarkson and Mindarie primary schools students celebrated Book Week with a variety of activities organised by Clarkson Community High School students.
The Year 10 Certificate II Community Services students read The Rainbow Fish book by Marcus Pfister to the classes, amongst other books, and planned activities for more than 200 students.
Picture by Lindsay Muskett: Left to right are Liam Gilvray of Clarkson, with Vanessa Avila of Merriwa and Charlea Waterfall with Sandy Hutton, both of Clarkson.