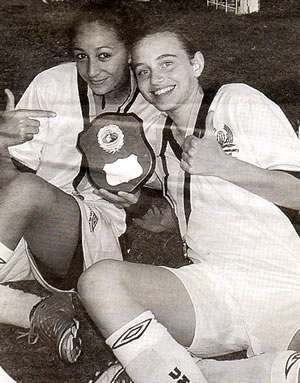 Clarkson Community High School goalkeeper Natalie Woods has some of the safest hands in the business.
Her work between the posts helped the school's junior team win the northern final of the Champions Schools' Trophy, now known as the Glory Cup.
The girls capped off a fantastic season to defeat Woodvale Senior High School in the final, but they had to endure some tense moments on their way to glory.
Despite dominating the match at the University of WA, coaches and parents had to endure the dreaded penalty shoot-out after the game ended 1-1 after extra time.
Two excellent penalty saves by Woods sparked scenes of jubilation for Clarkson. Coaches Gary Kalaher and Paddy Rooney were delighted with the team's achievement, which was even more meritorious considering just four squad members play soccer for clubs outside the school. 
"The girls have made up for their relative inexperience by working extremely hard, listening to their coaches and showing a lot of discipline," Mr Kalaher said.
The team went on to play John Curtin College of the Arts in the State final, but lost 5-2 to a team that included six state representatives.
"To be ranked second in the State is a huge achievement for a tream of players, several of whom are in their first year of playing the game," Mr Rooney said.