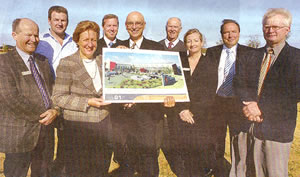 Plans for an indoor 50m swimming pool and health centre at Butler have progressed after funding was announced last week.
The department of Sport and Recreation approval an application by Sol Health for 2.5million to help build and run the $15 million facility, which will be at the corner of Lukin and Connolly drives.
Clarkson Community High School principal John Young was among representatives from several schools who have backed up the project for the past 2 years.
Mr Young said the new facility would make organising and attending swimming lessons and sports carnivals easier.
He also believed it would offer many benefits to the wider community by encouraging greater civic mindedness.
Mr Young said the facility would create greater opportunity for people to become involved in community service such as learning surf life saving at the pool.
Mindarie MLA John Quigley said facilities were too far away from the schools to be easily accessed, were to busy for them to get their students into and, at 25 metres, were not big enough.
The planned centre has an eight-lane indoor pool and a 300 seat grand stand.
Picture: Mindarie MLA John Quigley holds a drawing of the new centre at a site meeting with Sol Health managing director Dean Spolly and representative's from schools in the area.