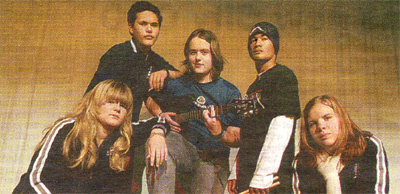 Clarkson Community High School senior drama and music students will perform their first ever musical, Leaving: A Rock Musical next month.
The musical, set in an inner city train station, focuses on a group of street kids and is performed to a rock soundtrack played by the school band.
Leaving: A Rock Musical will be staged on July 3 and 4 at Clarkson's performing arts theatre at 7pm.
Tickets are $10, children and concession $5. Call 9400 1777
Picture (left to right): Nicola Phillips (16), Andrew Hampton (16), Liam Yeats (16), Hamizan Jumani (15) and Chante Olivier (17)